A huge fire has destroyed up to 1,400 vehicles in a multi-storey car park in Liverpool, forcing many people to spend New Year's Eve in a temporary shelter.
Merseyside Fire and Rescue Service said the blaze at King's Dock – next to the Liverpool Echo Arena – was one of the worst it had ever dealt with.
An accidental fire in one car which spread to other vehicles appeared to have been the cause, police said.
Nearby apartments were evacuated due to smoke.
People who had parked in the multi-storey described being "frightened" by the noise as car windows exploded.
They said emergency services warned them their cars would be lost to the blaze.
All vehicles left in the 1,600-capacity car park have been destroyed, police said.
They warned people to stay indoors and close windows if they saw smoke from the fire.
The Liverpool International Horse Show has been running at the arena, which has a total capacity of 11,000, since 28 December.
Liverpool Mayor Joe Anderson tweeted that everyone was safe and no animals had been hurt.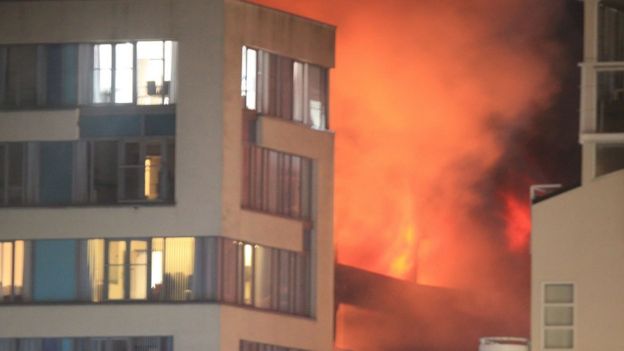 He said some horses that were on the first floor of the multi-storey car park had been moved inside the arena.
Kevin Booth, who was parked in the Echo Arena car park, described the the flames and the smoke "as unbelievable".
He said: "People were saying that they would just wait and get their cars back. I thought, 'Have you seen the fire? Are you joking?'
"It was frightening, we could hear the bangs of car windows exploding."
Mike Quek tweeted that there were "lots of explosions coming from the car park still".
"Driving into #liverpool #arena carpark and told to evacuate as car was on fire. Horses on ground floor. Hopefully everyone is ok," he added.
Merseyside Police said of the blaze: "Initial investigations indicate that an accidental fire within a vehicle caused other cars to ignite.
"We believe that all vehicles parked in the car park have been destroyed."
A spokeswoman for the Echo Arena said: "We regret to announce that the Liverpool International Horse Show has been cancelled tonight due to a serious fire in the multi-storey car park on site.
"All people and horses are safe and secure.
"We are working alongside the emergency services to ensure the fire is brought under control and to make the site safe as quickly as possible."
The arena said Liverpool City Council had opened a reception centre at Lifestyles in Park Road, Steble Street, L8 6QH, for those unable to get home or needing temporary shelter.
Aintree International Equestrian Centre offered its stables to those needing accommodation for horses.